The Requirements
To be a good fit for this opportunity you will have:
Current certification as either an active Enrolled Agent or an active CPA.
Extensive knowledge of tax laws.
Experience preparing federal and state returns, either individual (1040) or business (1120, 1120S, 1065, 1041, 990, 706).
Experience using major tax preparation software; experience with electronic filing is preferred.
The ability to research IRS and state publications, regulations, and GAAP publications.
Experience in verbally discussing complex tax topics or situations.
Excellent verbal and written communication skills.
The ability to work with minimal supervision.
Strong software troubleshooting abilities are a plus.
This is a seasonal position and you might start at one of four training sessions taking place from November to January; the season ends in late April. We'll ask for a commitment to work 30 to 40 hours a week. You also will need a distraction-free space where you can work at a computer and phone.
Note: although it is not decided yet, we are considering offering people the opportunity to work 20 hours a week. We can't make any promises at this time, but even if you cannot work 30 to 40 hours each week, please submit your resume.
The Role


You will join one of several teams of Tax Advisors around the country, each under the leadership of a team Manager. We'll start you off with paid training to orient you to our products, systems and processes. You can complete the training remotely.

In a nutshell, you will use your expertise and knowledge to provide in depth tax advice and guidance to TurboTax customers who either call in or initiate an online chat with a TurboTax Advisor. This is not a "call center" role and there is no up-selling or tax promotions. Questions will range anywhere from simple ones, such as "where do I input this information in TurboTax?" to more complicated ones, such as "My girlfriend and her children live with me. Can I claim them as dependents?"

In most cases you'll provide solutions during the call, while in other cases you may need to do some research and get back to the customer later. At the end of each consultation you'll provide a written summary of the solution to the customer by email.

Note: this description is intended to give you a general overview of the position and is not an exhaustive listing of duties and responsibilities.
Why Intuit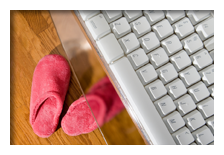 Exercise your expertise
-- even if you have a thriving practice, you're likely to expand your knowledge as you respond to a wide variety of questions from people with diverse situations. In addition to conducting research as necessary, you'll be able to share insights with others on the TurboTax team.
Office flexibility
-- you'll choose where you work, whether it's from home or a professional office. Tax Advisors are available to our customers from 5 AM to 9 PM Pacific, seven days a week. We have a variety of established schedules available, and we'll work with you to get you into one that suits your availability. In return we'll look to you to remain flexible during peak times, as we may ask you to take a couple of overtime hours before or after your normal hours.
Innovation, stability, growth
-- innovation has been the heartbeat of Intuit for nearly a quarter century as we are committed to staying ahead of the curve. We remain driven by our passion for inventing solutions to solve important problems, perfecting those solutions and delighting our customers. The result is steady growth year after year; we posted $3.8 billion in revenues for fiscal 2011, ended July 31, 2011.
Career options
-- while most of our Tax Advisors appreciate the seasonal flexibility of this role from year to year, if you have the ambition and aptitude you might turn this position into an entrée into a great company. Many of the Managers in this program moved up from Tax Advisor roles. And once you're on board (and you've completed your season commitment), you could pursue other positions with preferred status as a proven Intuit employee.
Excellent compensation
-- in addition to a competitive hourly rate, we offer a bonus incentive program. And we LIKE to bonus our people, because it means they're delivering where it counts. History shows that a majority of our Tax Advisors earn
more
than 100% of their bonus target, to the tune of $8000 or even more. You'll also receive Intuit product discounts.
Keys to Success
Our TurboTax Customers can be confident their taxes are done right because TurboTax Advisors are committed to helping them successfully complete their tax returns. That means your expertise and experience will be essential, but you also will need solid interpersonal skills, including the ability to:
Inspire confidence in your capacity for helping each customer as a unique individual.
Bring a solutions oriented approach.
Explain technical issues effectively to people who don't have your knowledge.
About Intuit

Be innovative . . . Be yourself . . . Be Intuit
Intuit Inc. is a leading provider of business and financial management solutions for small and mid-sized businesses; financial institutions, including banks and credit unions; consumers and accounting professionals. Our flagship products and services, including QuickBooks, Quicken and TurboTax software, simplify small business management and payroll processing, personal finance, and tax preparation and filing.
Intuit's array of flagship brands is expanding to reflect the growing number of ways we help people solve their problems. Whether helping balance a checkbook, run a small business, or pay income taxes, our innovative solutions have simplified millions of lives. In a world where emerging technology and market trends are changing the way people live and work, we'll continue to develop new products that offer the same ease and delight that are a hallmark of Intuit's pursuit of customer-driven innovation.
ProSeries and Lacerte are Intuit's leading tax preparation software suites for professional accountants. Our financial institution division, anchored by Digital Insight, provides on-demand banking services to help banks and credit unions serve businesses and consumers with innovative solutions.